Kerala, often referred to as "God's Own Country," is renowned for its stunning landscapes, serene backwaters, and vibrant culture. In this blog, we'll explore the delicious Famous food of kerala that makes it a food lover's paradise.
Join us on a culinary journey of Kerala's famous food! One of the most cherished aspects of Kerala's culture is its diverse and delectable cuisine.
Delicious Famous Food of Kerala
Kerala food items are a delightful blend of indigenous ingredients and foreign influences. Kerala food is influenced by the cuisines of Malabar, Arab, and French.
From the aromatic biryanis to the crispy dosas and spicy curries, the food of kerala is known for its complexity, depth of flavour, and unique ingredients.
For you, we have Mentioned the 20 Most Popular food in Kerala.
1. Malabar Biryani
Malabar, a renowned region in Kerala, is synonymous with its iconic biryani. Loved by the locals, this dish is made using fragrant Basmati rice, succulent meat, and a blend of Indian spices, resulting in a distinct Kerala biryani flavour.
Served piping hot with a side of pickles, yoghurt, and boiled eggs, Malabar biryani is one of the most famous food of Kerala and enjoys immense popularity across India.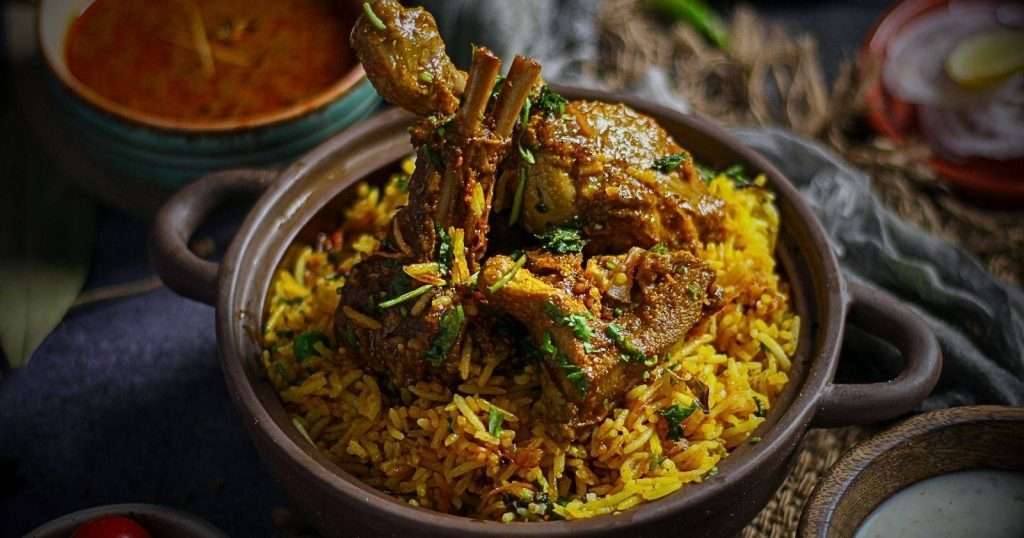 2. Idiyappam & Egg Curry
This awesome dish is a special food of Kerala. A combination of Idiyappam and egg curry is amazing. Idiyappam is made from rice powder. Cooked in steam and soft in nature. This Kerala food is served with Spicy Egg Curry. It can also be served with Kerala stew.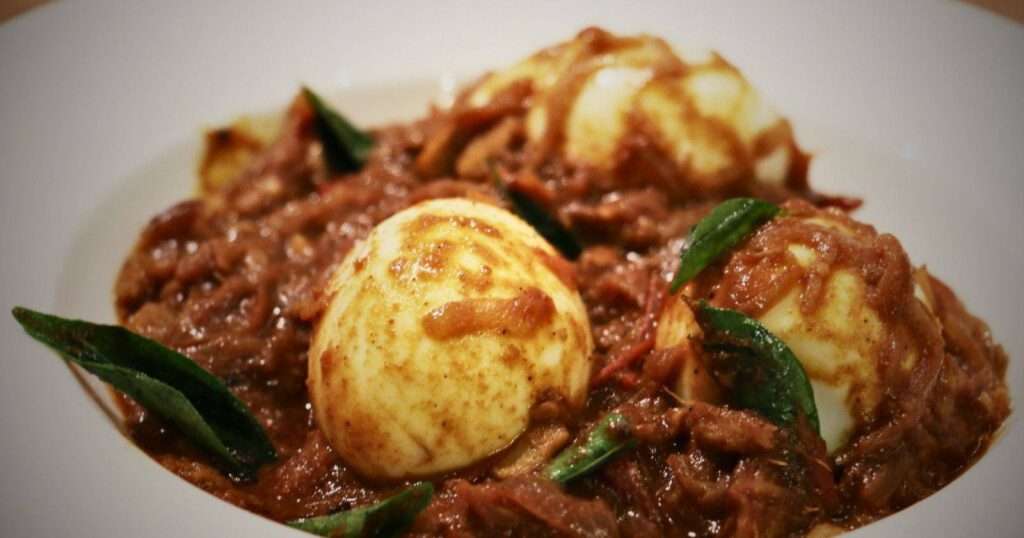 3. Dosa & Sambar
Dosa-Sambar is a popular South Indian dish from kerala. Widely available in all Veg Indian restaurants. But if you want to taste the true South Indian flavour of Dosa, try it in Kerala. Dosa is made of rice and served with Sambar. It's a spicy sour curry, including lentils, vegetables, and Indian spices. Dosa -Sambar is a traditional food of Kerala.
4. Appam
Appam is a local food of kerala prepared with rice batter. Round, soft, spongy, white. It was served hot with a Kerala stew. Kerala Stew is a gravy dish made with potatoes, onions, ginger-garlic, etc. This stew is also prepared with chicken or mutton. It is another famous dish of kerala.
5. Puttu & Kadala Curry
As you delve into the culinary world of Kerala, you'll encounter a delightful breakfast treat that locals adore – Puttu and Kadala Curry. The combination of flavours and textures in this dish creates an unforgettable breakfast experience.
This Kerala Food is very popular for breakfast. Puttu is a combination of rice powder, coconut, and water that is prepared in a steel mould. It was served with the Kadala curry. Kadala curry is made from spicy coconut gravy and boiled black chickpeas. This is a wonderful breakfast.
6. Kerala Spicy Chicken Fry (Naadan Kozhi Varuthathu)
If you're in love with fried chicken, this delicious Kerala food is for you. This Special food of Kerala is Known as "Kerala style fried chicken", crispy and soft prepared with coconut oil, brown with Indian spices. you will find this Kerala dish Unique and distinct in taste.
7. Malabar Paratha and Kerala Beef Fry
This Beef based dish is very popular in kerala cuisine. It is Served with Parotha. This Kerala Special food is distinct in taste and has a unique taste. Fried beef is prepared with pepper, onions, and other spices. The usage of coconut makes this local food interesting.
8. Prawn Theeyal
Enjoy the delicious Prawn dish in the style of Kerala. This Kerala dish is prepared with coconut and other spices. Tiger prawns are usually used for this food. This famous dish of Kerala is recommended for all prawn lovers. It gives you an authentic taste of Kerala cuisine.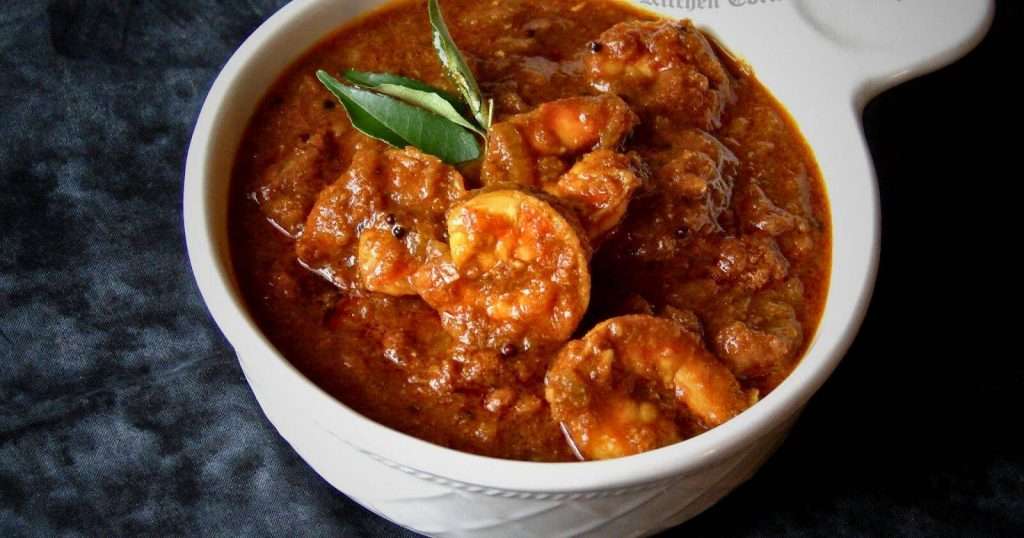 9. Kallummakkaya Ularthiyath / Mussel Stir Fry
Another Famous food of Kerala for non-veg lovers. The Mussel dish from Kerala Cuisine'. Mussels are cooked with coconut and spices. And the famous stir-fry mussels are ready to serve with Rice.
10. Thattu Dosa
Tahttu Dosa is the famous street food of Kerala. "Thattu Kada" means roadside eatery. dosa is Prepared with rice and served with chutney or Sambar. It is very Soft & delicious. Very popular among locals,
11. Pathiri
One more traditional food of Kerala. Pathiri is made with rice flour. This Kerala food is popular in Malabar. It is also called a pancake of rice. Food is served with a non-vegetarian curry dish. Famous among Muslim families of the state. It is believed that this Kerala dish is influenced by Arab cuisine.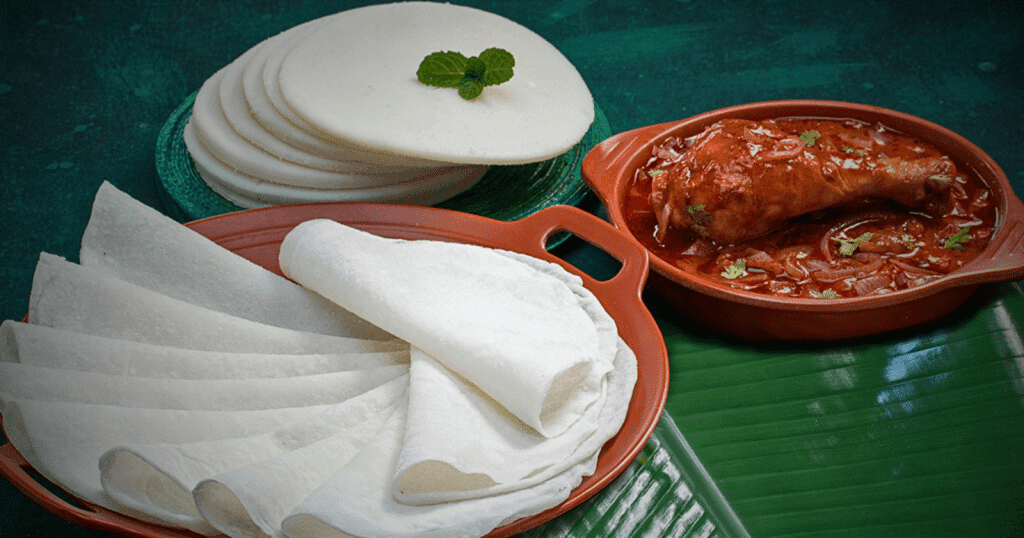 12. Cheera Thoran :
Cheera Thoran is Kerala style vegetable fried dish. This tasty dish is prepared with red /green spinach leaves. Spinach is a good source of iron for the human body. Food is served with hot rice, dosa, appams and Malabar paratha. It is also eaten as a side dish. This is Kerala's traditional food and it is very good for digestion.
13. Mathanga Erissery
It is a popular food in Kerala, Especially during the Onam festival or Vishu Sadhya. Mathanga Erissery is made of Red cowpea, Pumpkin, and Raw Banana with coconut Gravy. This delicious Food goes well with hot rice.
14. Kappa Biriyani
Here is the delectable Kappa Biryani, a famous food item from Kerala cuisine, known for its unique regional flavours. This culinary masterpiece features Kappa (tapioca) as the star ingredient and can be enjoyed in both vegetarian and non-vegetarian versions with chicken, mutton, or pork.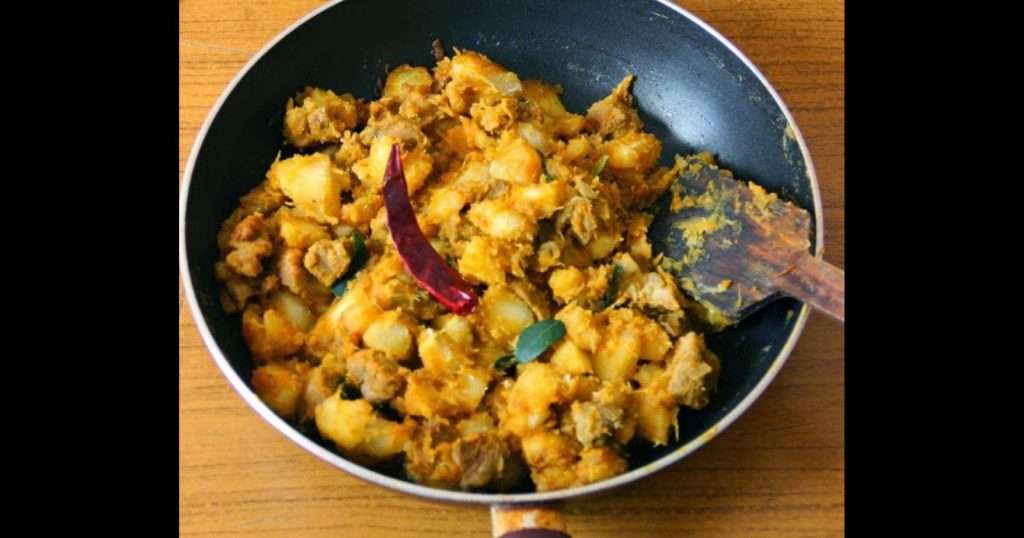 15. Ela Ada
Ela Ada is a famous sweet dish of Kerala. This stuffed sweet dish is made of Rice. The Rice dumpling is filled with Jaggery and Coconut Mix. Rice dumpling is steamed and cooked on banana leaves. This aromatic food definitely hits your taste buds.
16. Erachi Varutharacha curry
This famous food of Kerala is a Non-vegetarian dish. The literal meaning of "Varutharacha" is Roasted. In this dish, Mutton is roasted with Kerala Spices like Coconuts, cardamon, curry leaves, red Chilies, fennel, etc. This Curry dish goes very well along with idiyappam, rice, and Appam. This delicious delight is a bit spicy and mouth-watering kerala food.
17. Malabar Parotta| Kerala Paratha
Malabar paratha is a special food of Kerala Cuisine. It's a very popular South Indian flatbread (Roti ). But this layered roti is made of maida or plain flour.
This layered Malabar paratha is consumed with all kinds of Dishes. This paratha is Flaky and crisp. You can find it as a variation of the Popular Laccha Paratha.
18. Karimeen Pollichathu | Meen Pollichathu | Kerala Style Fish Poliichthu
This Popular non-vegetarian dish hails from Kerala and is a true delight for all fish lovers. Known as Meen Pollichathu, it holds a special place in Kerala's culinary tradition and is typically enjoyed as a starter.
The star ingredient for this dish is the Karimeen fish, also known as Pearl Spot, although Mackeral or Pomfret can also be used. The fish is coated with a special masala, shallow fried, and then wrapped in banana leaves before being cooked to perfection over a medium flame.
For those who prefer a vegetarian option, paneer can be used as a delectable alternative. The addition of banana leaves imparts a unique and amazing flavour, making this dish an exceptional and one-of-a-kind recipe from Kerala.
It is one of the most popular Kerala Dishes.
19. Fish Molley ( Kerala Style Fish Molee) – Popular Food of Kerala
Fish Molley is a Kerala Style fish curry dish. One more popular curry dish from the Cuisine of Kerala. This staple food of Kerala is a yellowish curry fish dish made with coconut gravy. This spicy dish tastes More delicious with appam, rice, or Flat Bread. Karimeen fish or any other fleshy fish can be used. Usage of Fresh fish makes it yummier. One of the traditional Kerala dishes.
20. Sadya or Sadhya- Kerala Feast
Sadya is a grand feast in Kerala, usually served during auspicious occasions and festivals. It is a multi-course vegetarian meal, consisting of a variety of dishes served on a banana leaf. The highlight of the Sadya is the traditional Kerala Matta rice, which is typically served with an array of curries, pickles, and payasam.
In general, this vegetarian feast includes 24-28 dishes but can go up to 64 and more items. This traditional feast is eaten traditionally, and people sat on the ground and enjoy food without cutlery.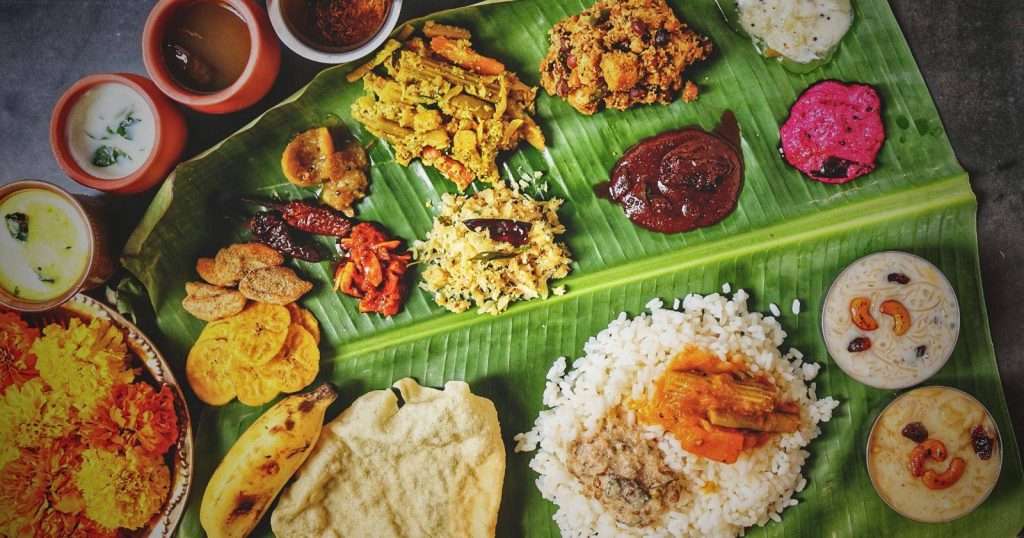 In conclusion, Kerala cuisine is an amalgamation of flavours, aromas, and traditions that have stood the test of time. Exploring Kerala food is not just a treat for the taste buds but also a journey that unravels the essence of this captivating land.
Read More: Famous Food of Karnataka
References :