Indian food has many dishes in its breakfast list. Different regions of India have different and delectable breakfast dishes. it includes a diverse range of dishes prepared with common ingredients like rice, wheat, and lentils as well as a diversity of spices and herbs.
Dishes Made with Steamed rice, fermented rice, lentil , deep-fried dishes, semolina porridge, and a flatbread are a few of the favourite breakfast foods. Chutneys, sambar and other spice powders are frequently served with Indian breakfast.
Yoghurt and a variety of fruits are also a part of Indian Breakfast.
if you are vegetarian you will find an amazing range of food. Indian dishes are not only healthy but also full of energy.
If you are looking for vegan dishes in breakafast you can find it in indian breakfats list. Indian Breakfast has spicy as well as non-spicy food range also.
Here is the List of the most popular Indian breakfast
1. Idli
Idli is a rice-based Indian breakfast. It is prepared with Fermented rice and Lentils. It is generally served with chutney and sambar, Because idlis are steamed, it is low in fat, and high in protein, idlis are frequently seen as a healthy and light breakfast alternative. They are also simple to digest and gluten-free.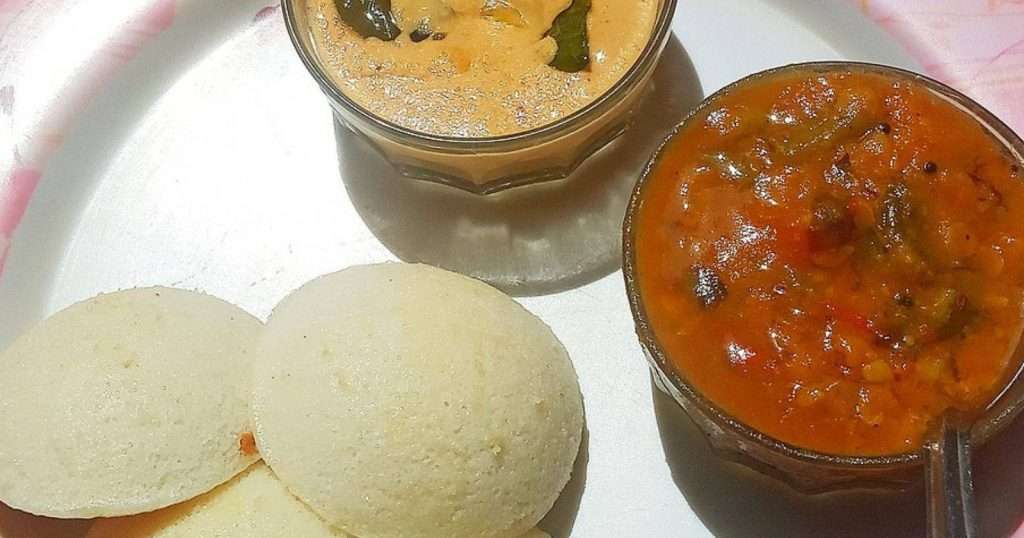 2. Paratha
Partha is Indian flatbread. You will find many variations in this dish like aloo ka paratha (Potato based), Gobhi ka paratha (Cauli flower-based), Methi paratha, and Dal ka paratha (Lentils). In the North, of India People love to It paratha for breakfast. It is consumed hot with achar, Dahi or cooked vegetables (sabzi in India).
Partha is healthy full and it is full of energy.
3. Methi Ka Thepla
Thepla is a popular breakfast from Gujarati cuisine. Thepla is the same as Indian flatbread. But it is thinner and spicier compare to Paratha. Thepla is mostly consumed cold and with Indian pickles.
4. Cheela
Cheela you can say it is an Indian pancake, It is generally made with lentils and cereal grain flour. it is made with unleaved batter. this food is very easy to cook and easy to digest.
Also nowadays Ready-to eats batter is easily available in the market. you can find variations in this dish like moong Cheela, besan Cheela, oats Cheela etc.
This is one of the low-calorie food from Indian cuisines.
5. Upma – Indian vegan Breakfast
Upma is one of the most popular breakfasts in India. This tasty food is made with semolina and other spices. People consumed it hot with tea.
Upma is also a vegan food from Indian food.
6. Seviyaan or Vermicelli
Vermicelli sweet dish is quite popular in India. But for breakfast vermicelli is also consumed. This food is generally known as Namkeen seviyaan.
In this dish, vermicelli is cooked with herbs and spices.
7. Uttapam
Another delicious breakfast from south Indian cuisine. Easily available in all Indian restaurants. Made with rice and lentils batter with onion and other Indian herbs.
Uttapam is a popular option for the Indian breakfast since it is a versatile dish that may be served with a number of toppings, such as vegetables, fruits, and cheese.
8. Poha – Indian Vegan Breakfast
Poha is the most popular Indian breakfast In India. Easily available in any part of the country. the famous breakfast dish made with flattened rice.
It is a great source of carbohydrates. Poha is the Hindi name of Flatten rice.
9. Bread Pakora
Bread Pakora is Popular street food in India. it is a tea-time snack. It is very popular in India. This dish is a deep-fried stuffed bread dish. It is not commonly made in an indian kitchen.
I will consider it as healthy food. but if you love deep fry indian dishes you should try this once.
10. Puri Sabji/ bhaji
Puri Sabzi is a great morning breakfast if have a little busy work schedule. Puri with Potatoes and vegetables gives you an amazing taste as well as the energy to work long duration.
you will find this food in the very region of India.
11. Dosa -South Indian breakfast
Dosa is popular south Indian food. it is thin crepes made with a batter of fermented rice and lentils. this delicious food is served hot with sambhar and chutney.
One of the most popular Indian breakfasts. it is available in every part of the country. you will find many variations in this dish such as masala dosa, paper dosa, paneer dosa, and Mysore masala dosa etc.
it is easily available in any restaurant in India.
12. Bread Omelettes
In India people mostly consumed eggs in their breakfast in Non-Veg. Omelettes are very common in the home if they are Non-vegetarian.
Omelettes are made with thin slices of onion, tomatoes and herbs. It is placed in between two pieces of butter-fried bread. It tastes amazing with hot tea.
Read More: Popular Indian Spices
Source