In this blog, we will explore West Bengal's famous Food, including the iconic Bengali Macchi Bhat, and the mouth-watering Bengali sweet dishes, and delve a bit into the history of Bengali cuisine. So, get ready to take a culinary journey through the flavours and aromas of West Bengal's rich culinary heritage.
List of 20 West Bengal Famous Food
Bengali cuisine, which is one of the most diverse and sophisticated cuisines in India, has a unique blend of spices and flavours that sets it apart from other regional cuisines.
1. Chingri Malaikari
This is a Non-veg dish. Chingri Malaikari is a Traditional Bengali dish. In this curry dish, large-size tiger prawns (Bagda Chingari ) or Giant freshwater prawns (Golda Chingari) are used. This deliciously creamy dish uses coconut milk for the curry.
Fresh prawns are marinated with spices, and then it is slowly cooked with onion, coconut milk, and Other Ingredients. This authentic food of West Bengal will amaze you in taste. It is eaten with hot rice with ghee.
One of the famous West Bengal food and is very common in every Bengali celebration and event. Other variations of this succulent dish are Machar Malaikari and Lobster Malaikari.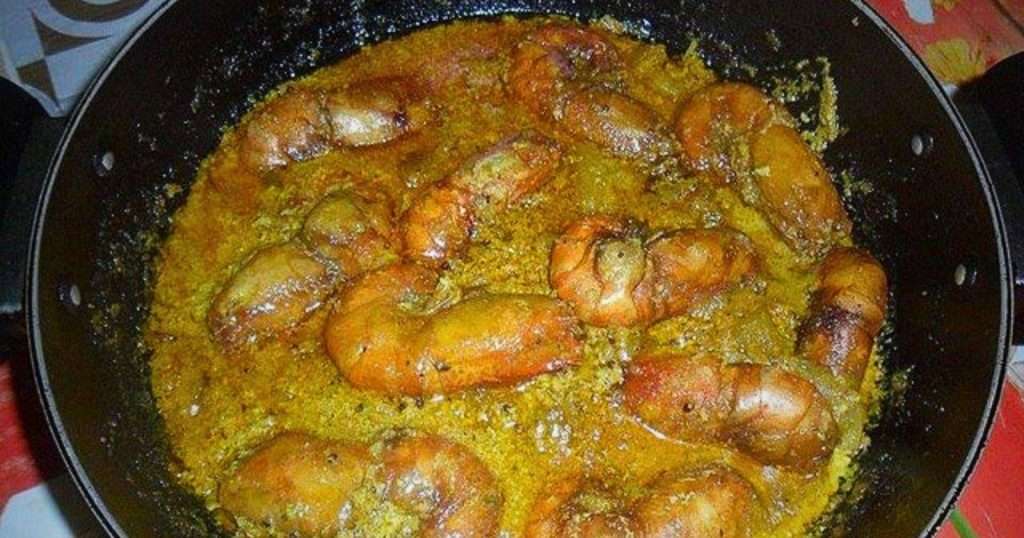 2. Bhapa Ilish/ Bhapa hilsa
Illish Bhapa or Steamed hilsa and Shorshe illish bhapa are some other names for this dish. This Mustard Grvay fish dish is a staple food of West Bengal. If we talk about, the name of tasty fish in India, Illish ( Hilsa) will be the top of them. In West Bengal, Chingri is considered as King of Prawns, and Hilsa is believed as Queen of fish.
This fish is very famous in Bangladesh too. Every fish lover knows the beauty of this fish. Bhapa means "steamed". Illish is marinated with mustard, coconut, yogurt paste and kept in a steel Box or Container. Later on, that box will be used in steam cooking.
The taste of mustard makes this dish unforgettable. Bhapap Illisa is mostly consumed with Rice. In every coastal area of India, fish, and rice have an unbreakable bond. This is the famous food of West Bengal for Non-vegetarians.
3. Keemar Doi Bora
This is another unique, famous dish of West Bengal. This dish is a Non-veg version of Dahi Bada. Keemar Doi Bora dish belonged to the kitchen of "Ravindra Nath Tagore".
You can find the recipes for this dish in a book written by Purnima Thakur. One of the Family Members of Mr Tagore. This distinct Non-vegetarian dish gives a new taste to Non-veg lovers. Keemar Doi Bora has Minced Meatballs in sweet Yogurt (Dahi) with a topping of Spices. It is served as a side dish.
4. Kathi Rolls
Hope everyone enjoys the rolls & wraps. Kathi rolls similar to that. This is an authentic dish of West Bengal. It originated here only. It is the famous Street Food of West Bengal. Kathi or Kati Means Stick. Kathi Rolls are Skewer Roasted Kebabs that are wrapped in Indian bread- Paratha. It is a very delicious & heavy dish for your stomach. This food is also available for vegetarians with Paneer. Food is amazing, easy to carry & tasty. Mostly eaten hot & Fresh.
Find More Famous Kebab of India – Famous food of Uttar Pradesh
5. Daab Chingri
Daab Chingri is an amazing dish of West Bengal. It is a prawn curry dish with tender coconut. Daab means tender coconut & change referred to prawns. Prawns are cooked inside the coconut shell with mustard oil, coconut & poppy seed gravy. This dish is very popular in Bengal & Bangladesh. This famous food of West Bengal is an authentic food of the state.
6. Kosha Mangsho
Kosha Mangho is a mutton dish in Bengali style. Kosha meaning in Hindi is Bhuna. Bhuna means slowly cooking a dish over a low flame for a long time. It is also known as the "Bengali mutton curry "recipe. Pieces of mutton are marinated. Later on, it is cooked in spicy tomato & yogurt on low flame. Low-flame cooking makes this dish rich, dark brown velvety gravy. This recipe is can be made with chicken also.
7. Bhetki Macher Paturi
Bhetki Macher paturi is fish dish. If you want to relish the authentic fish dish of Bengal, you should try this. Generally, Barramundi fish is used to cook this dish. Also known as Bhetki. Pieces of Bhetki are marinated in mustard pasted and wrapped in banana leaf.
The word paturi means leaf in Bengali. llish, chingri is also used for this dish. This delicious food of West Bengal is quite Popular in every housed hold.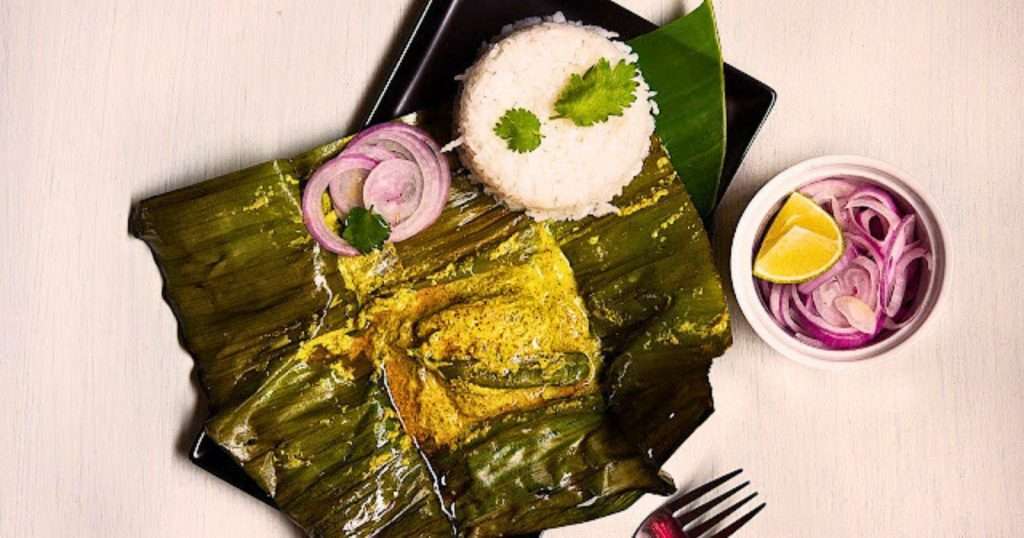 8. Tangra Macher Jhol
Tangra is a freshwater river, fish. It is a catfish. Extremely popular & delicious fish curry dish in the state. Fish cook in Mustard oil with vegetables and other spices. Any vegetables of your choice can be added.
9. Began Bhaja/ Baigan Bhaja
Began Bhaja is a Tasty vegetarian Bengali dish. It is also called Baigan Bhaja. Baigan means eggplant (Brinjal). This delicious Baigan fried dish is very easy to make. For 'Begaun Bhaja" dish, large size Brinjal is required. Then brinjal is chopped into slices into a circular shape). The large size of Brinjal hai More flesh and less seed.
The special batter of Besan ( Gram flour with other ingredients) is prepared. Cutting pieces of Brinjal are dipped into batter and Than Shallow fried with oil as required. This fried brinjal is served as a side dish with dinner or lunch meals.
The best combination of Began bhajan is Bengali Khichdi. In other variations of this dish, brinjal is replaced with vegetables like potato or Bhindi etc. The name of the dish will change accordingly. Famous vegetarian food of West Bengal.
10. Lau Ghonto
This food is a summer special Recipe in the state. A unique and distinct dish has Bottle Guard as the main ingredient. Bottle guard is cooked with its own juice with peas and badi /Bori/ bari. This is a very simple and easy dish. Tomatoes and other Indian spices are also used for the preparation.
What is Badi or Bori? Badi is a very popular homemade stored food in West Bengal. It is a dried lentil dumpling. That is prepared with a paste of Urad dal and winter melon. The dumpling is then sun-dried for 4-6 days. In India, people make it in winter and are mostly consumed during the rainy days.
11. Luchi-Alur Dom
Luchi & alur dom is a Popular breakfast from West Bengal Cuisine. This delicious dish is famous street food. Luchi is a Puri made with Maida. It is less fried compared to Puri. The colour of Puri is Brown & Luchi is generally white.
Alur Dum is Aloo dum is an aloo dish with gravy in Bengali style. You can find it a bit spicy & Tangy. Food is served hot.
12. Jhal Muri
Jhal Muri is Bengali Bhel. Muri is a Rice flake. Rice flakes are tossed with spicy chutney, Mustard oil, coconut chunks & Roasted lentils. This is another popular street food from West Bengal. Extremely delicious & Mouthwatering snacks.
13. Shukto
Shukto or shuktoni is a must-try dish from West Bengal. It is mixed veg food. Very popular during Durga pooja, family functions & any Get-Together. The dish is loved by all age groups.
Shukto is prepared with mixed vegetables like a bitter guard, eggplant, potato, drumsticks, white radish, etc. with "Bangali Panch Phoron "spices. It has a thick, creamy, milk gravy that compliments the bitterness of the gourd.
14. Aam Pora Shorbot
Aam Pora Shorbot is a Bengali Beverage widely used during Summer. It is a cooling beverage. This is prepared with chilled water, Burn raw mangoes, and Sugar. During hot summer, burnt mangoes are peeled off. Burnt mangoes give a smokey flavor. It is a Healthy mango drink to refresh yourself
15. Chholar Dal
A lentil-based dish from Bengal. This Bengali dish is prepared with chana dal as the main ingredient. Chana dal is cooked with spices like bay leaf, coconut bits & Cinnamon, etc. Sweet & Spicy in taste.
List of Famous Sweet Dishes of West Bengal
16. Sandesh
Delicious famous Sweet dish from West Bengal. This is very popular in the country. Sandesh is very important during all the festivals & Special occasions. The dish is prepared with Sugar, Chena (paneer), and cardamon powder.
17. Mishti Doi
Another sweet dish of West Bengal. Misti Doi is Sweetened Yogurt. It is eaten as supper food or as a sweet dish.
18. Patishapta
Patishapta is a distinct Bengali sweet dish. Very Popular During the Rice harvest festival "Poush Sankranti".Poush Sankranti is also known as Makar Sankranti in the other part of the Country. It is kind of Pithe. A crêpe of Rice is filled with a special mixture Prepared with Milk, Coconut, Date, jaggery, etc.
19.Sarbhaja / Shor Bhaja
Shorbhaja / Sarbhaja is another name in the list of sweet dishes from West Bengal. It is made with flour & Sugar Syrup. Krishna Nagar is known as the birthplace of this dish.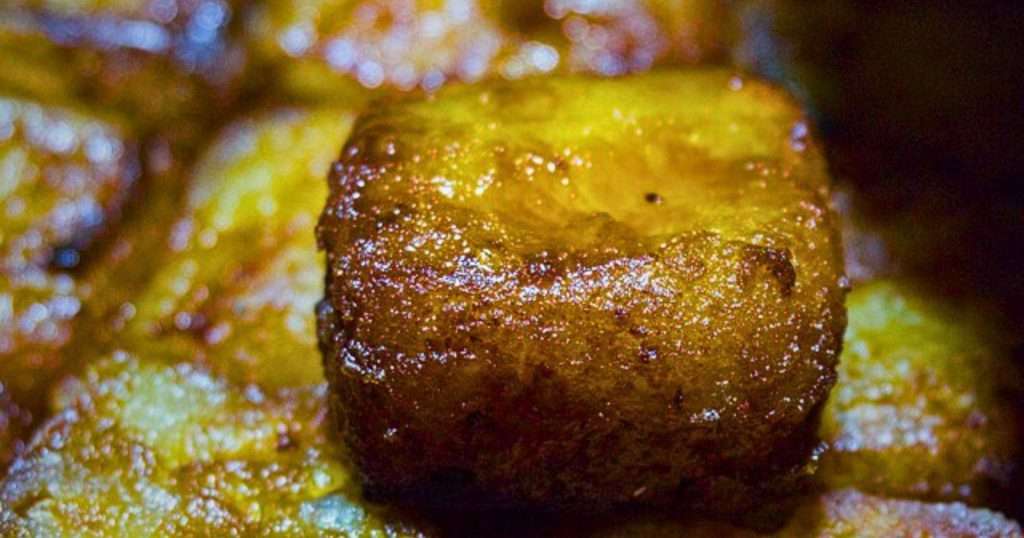 20. Langcha / Lyangcha
A popular dish from Bengal & a neighbouring state. This is prepared with flour & Milk with Sugar Syrup. "Shaktigarh" is very famous for this sweet dish. It is one of the most Popular mouth-watering dishes in Bengal. You can find it in sizes 3″ long to 10″ long.
In conclusion, West Bengal is a paradise for food lovers, offering a diverse range of delectable dishes that are sure to tantalize your taste buds. From the world-famous Rosogolla to the deliciously spicy Jhal Muri, the state has something to offer everyone. Whether you are a vegetarian or a non-vegetarian, a sweet lover or a spice fanatic, West Bengal's food culture will surely leave you mesmerized. So, the next time you plan a trip to West Bengal, make sure to indulge in its famous food and experience the flavours that make this state truly unique.

Frequently Asked Questions (FAQ )
A. What are the 10 most famous sweet shops in Kolkata?
Famous sweet shops in Kolkata are as follows-
1. Hindustan Sweets
2. Gupta Brothers
3. Dwarik's
4. Bhim Chandra Nag
5. Balaram Mullick And Radharaman Mullick
6. Mouchak
7. Girish Chandra Dey And Nakur Chandra Nandy
8. K.c.das
9. Sen Mahasay, Hatibagan
10. Adi Haridas Modak Mistanna Bhandar, Fariapukur
B. Which are the 10 most popular street foods of Kolkata, West Bengal?
Popular Street foods of Kolkata are listed below –
1. Jhalmuri.
2. Kati Roll
3. Telebhaja
4. Chhanar Jilipi
5. Ghugni Chaat
6. Dimer Devil
7. Doodh Cola
8. Momos
9. Bengali Puchka
10. Mughalai Paratha
C. What is the name of Kolkata's famous food street?
Names of Kolkata's famous food streets are –
1. Decker Lane
2. Shobha Bazar
3. White Town
4. Territy Bazaar
5. Shyam Bazar
6. Balygunge Market
D. What is the List of Famous Bengali food?
Names of famous Bengali food are Chingri Malaikari, Bhapa Ilish/ Bhapa hilsa, Keemar Doi Bora, Kathi Rolls, Daab Chingri, Kosha Mangsho, Bhetki Macher Paturi, Tangra Macher Jho, Began Bhaja/ Baigan Bhaja, Lau Ghonto, Luchi-Alur Dom, Jhal Muri, Shukto, Aam Pora Shorbot, Chholar Da, Sandesh, Mishti Doi, Patishapt, Sarbhaja / Shor Bhaja, Langcha / Lyangcha.
Feature Image Credit: Source
Reference