"Welcome to Junoon, a premier Indian restaurant in the heart of New York City. Experience the enchanting flavours of Indian cuisine as Junoon takes you on a culinary journey like no other.
The name means "passion" in Hindi.
Discover the vibrant spices, rich curries, and tantalizing aromas that define Indian cuisine. With an impeccable blend of tradition and innovation, Junoon offers an unforgettable dining experience.
A. Location of Restaurant
Junoon is located in the heart of New York City, specifically at:
Junoon:
19 West 24th Street,
New York, NY 10010 (212) 490 2100
info@junoonnyc.com
The restaurant is conveniently situated in the Flatiron District, making it easily accessible to locals and tourists alike. Its central location allows for an immersive dining experience in the bustling cityscape of New York.
B. History of Junoon Restaurant
Junoon was founded by renowned restaurateur Rajesh Bhardwaj. The restaurant opened its doors in 2009, aiming to redefine the Indian dining experience in New York City. Junoon's culinary vision was led by Executive Chef Vikas Khanna, a Michelin-starred chef and prominent figure in Indian cuisine. It is Spread over 25,000 sq ft in the heart of Newyork.
Chef Khanna envisioned Junoon as a platform to showcase the rich diversity of Indian flavours while elevating traditional techniques and presentation.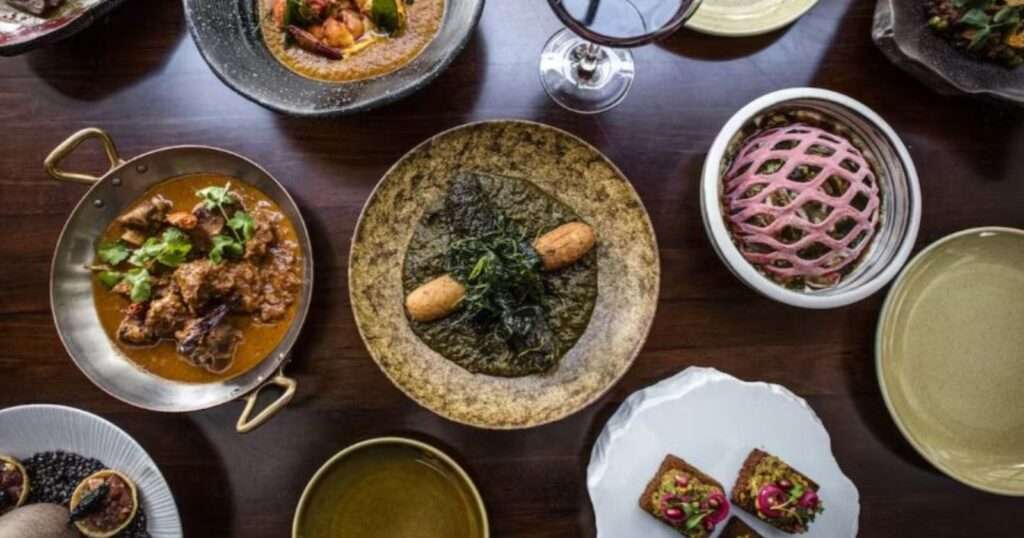 C. Awards and Recognition to the Restaurants
Junoon quickly gained acclaim and garnered numerous accolades within the culinary industry. In 2011, it received a Michelin star, solidifying its status as a fine dining destination. Junoon continued to earn critical acclaim, receiving praise for its innovative menu, exquisite flavours, and impeccable service.
D. Team of Junoon restaurant
Junoon restaurant has been fortunate to have a talented team of individuals dedicated to delivering an exceptional dining experience. While the specific team members may have changed over time, here are some key positions typically found in the Junoon restaurant team:
RAJESH BHARDWAJ Founder/CEO
HEMANT PATHAK General Manager
AKSHAY BHARDWAJ Corporate Chef
GUSTAVO TZOCX Executive Pastry Chef
MICHAEL DOLINSKI Wine Sommelier
E. Who is Vikas Khanna ?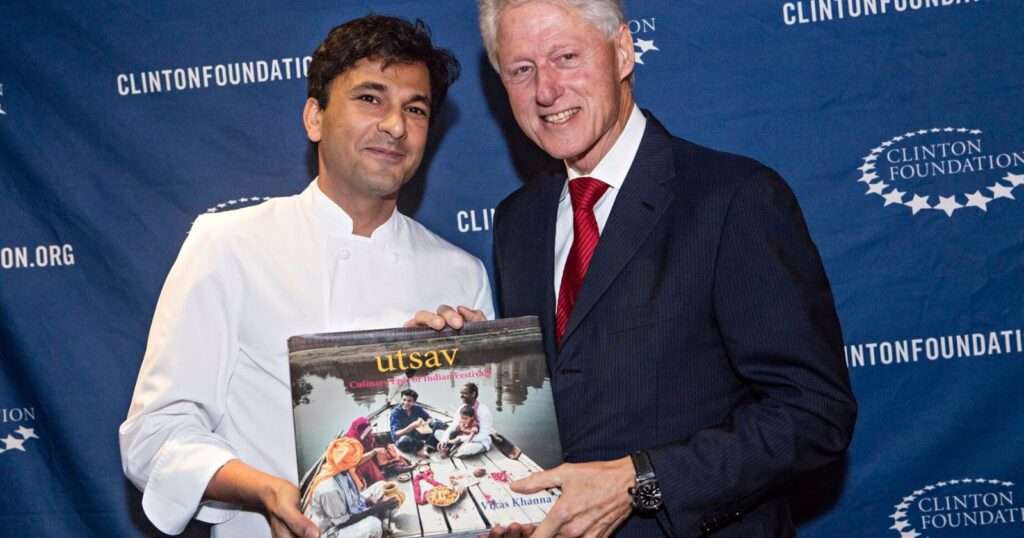 Vikas Khanna, a renowned Michelin-starred chef, played a significant role at Junoon restaurant. As the Executive Chef and co-founder, he brought his expertise and passion for Indian cuisine to Junoon, making it a top destination for fine dining.
His creative approach and commitment to culinary excellence helped Junoon earn accolades and recognition. However, please note that circumstances may have changed since my knowledge cutoff in September 2021.
F. Reason to visit the Restaurant
Discover why Junoon is a must-visit restaurant that will leave a lasting impression:
Unforgettable Indian Flavors: Prepare your taste buds for an explosion of authentic Indian flavours. Junoon's culinary creations showcase the rich diversity of Indian cuisine, from aromatic spices to hearty curries. Each dish is expertly prepared, capturing the essence of traditional Indian cooking with a touch of modern flair.
Innovative Culinary Craftsmanship: Experience the perfect blend of tradition and innovation at Junoon. The talented chefs combine age-old techniques with contemporary culinary approaches, resulting in unique and mouthwatering dishes that will surprise and delight your palate. Be prepared to savor a culinary masterpiece, unlike anything you've tasted before.
Welcoming Ambiance: Step into Junoon and instantly feel at ease in its warm and inviting atmosphere. The restaurant's elegant yet approachable ambience sets the stage for a memorable dining experience. Whether you're celebrating a special occasion or enjoying a casual evening out, Junoon's relaxed environment ensures a comfortable and enjoyable time for all.
Acclaimed Recognition: Junoon's culinary excellence has not gone unnoticed. The restaurant has earned critical acclaim and received accolades, including a prestigious Michelin star. Such recognition speaks to the exceptional quality of the food, service, and overall dining experience you can expect when visiting Junoon.
Regional Delights: Dive into the regional diversity of Indian cuisine through Junoon's carefully curated menu. Explore flavors from North to South, with dishes that highlight the unique culinary traditions of different regions in India. It's an opportunity to embark on a flavorful journey, immersing yourself in the vast tapestry of Indian gastronomy.
Don't miss the chance to experience Junoon's extraordinary blend of flavours, innovation, and inviting atmosphere. Prepare to be impressed by the artistry and passion that goes into every dish, leaving you with a newfound appreciation for Indian cuisine.
G. Celebrities at the Junoon Restaurant
The Junoon restaurant has had the privilege of hosting numerous celebrities who have sought out its exceptional dining experience.
H. Menu of Junoon Restaurant
While the specific menu offerings at Junoon may vary based on seasonal availability and the chef's creativity, here is a sample menu that showcases the diverse and exquisite flavors you can expect at the restaurant:
PRESTIGE PRIX MENU
2 Course Prestige Menu $43 | 3 Course Prestige Menu $49 (served with basmati rice and naan)
APPETIZER
EGGPLANT CHAAT
PANEER KASTURI
WINTER VEGETABLE TIKKI
GHOST CHILI MURGH TIKKA
RAMP TANDOORI TROUT
HALEEM
MAIN
LASOONI PALAK
NADRU MATTAR MAKHANA
BAIGAN & KATHAL BHARTHA
PANEER PASANDA
RAMP & TRUFFLE KHICHDI
MISA TILE FISH MOILEE
SHRIMP BUTTER PEPPER GARLIC
MURGH LABABDAR
LAMB CHOPS
LAL MAS
DESSERT
KULFI POPS
mango, ube-malai, rose petal & saffron-cardamom
MA'S RICE PUDDING
Candied almonds, caramelized bananas
THANDAI
saffron custard, Himalayan crunch, thandai shrikand
TRIPLE CHOCOLATE MOUSSE
ghost pepper, sweet boondi, falsa berry sorbet
SEASONAL SORBET TASTING
melon-mace, Alfonso mango, and coconut-cardamom
ACCOMPANIMENTS
DAL MAKHANI
YELLOW DAL TADKA
MULTIGRAIN PULAO
PULAO BASMATI RICE
NAAN
ROTI
MISSI ROTI
HARA PARATHA
GARLIC NAAN
JUNOON SPICED NAAN
MINT RAITA
CHUTNEY TASTING
Three seasonal chutneys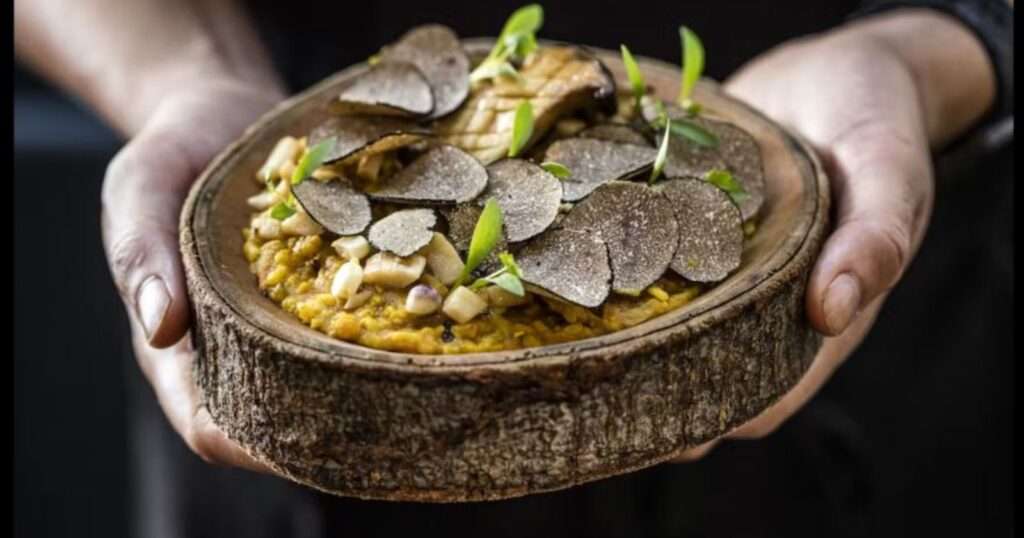 I. Dress Code of the Restaurant
The dress code is smart casual, and try to avoid wearing gym shorts, tank tops, and flip-flops.
Read More: Indian Restaurant in the USA
Source :