In this blog, we will take you on a culinary expedition through the famous food of Uttar Pradesh. From the aromatic Awadhi cuisine of Lucknow to the mouthwatering sweets of Benaras, the Uttar Pradesh food has offered an Array of delightful dishes for food enthusiasts.
Must try the Famous food of Uttar Pradesh
From the bustling streets of Lucknow to the holy city of Varanasi. The state offers an incredible diversity of flavours and aromas that will leave your taste buds dancing with delight.
1. Tunday Kebab- Traditional food of Uttar Pradesh
"Tunday Kabab, a renowned delicacy from Uttar Pradesh, is synonymous with the city of Lucknow. These kebabs are incredibly tender and simply melt in your mouth. The origin of Tunday Kabab is steeped in an intriguing tale.
During the 17th century, a nawab, who had difficulty chewing, sought a non-vegetarian dish that would tantalize his taste buds and be easy to consume. Thus, the famous dish of uttar pradesh was born.
2. Galawati Kebab/Galouti Kebab
Galawati kebab is a regal delight hailing from Uttar Pradesh, specifically belonging to Awadhi cuisine. This delectable dish is known for its irresistible taste, prepared by blending finely minced meat with a unique selection of spices.
The kebab is exceptionally tender, practically dissolving in your mouth within moments of savouring it. Undoubtedly, this is one of the most popular food of Uttar Pradesh for Non-Veg Lovers.
3. Lucknowi Biryani – World Famous Biryani from Uttar Pradesh
If you have a fondness for biryani, then the royal Biryani from Lucknow is an absolute must-try! This Lucknowi Biryani holds immense popularity across the country, coming second only to the renowned Hyderabadi Biryani.
What makes this Biryani truly special is the blend of ingredients like cashew nut paste, saffron, curd, and an array of Indian spices, delivering a regal and flavoursome dining experience. Whether you opt for the tender mutton or the succulent chicken version, be prepared to be amazed by its distinctive and delightful taste.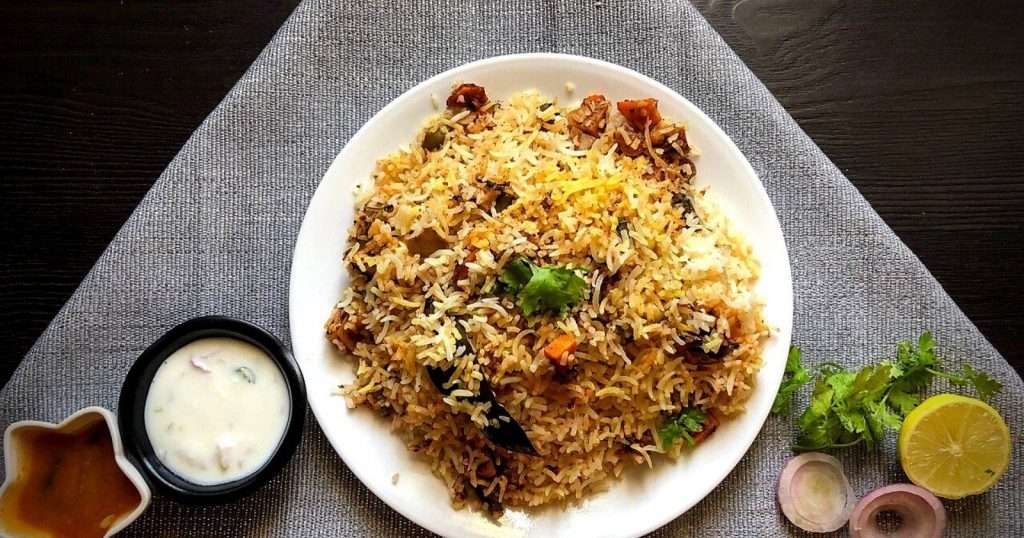 4. Tehri
Tahari holds a special place as the Traditional food of Uttar Pradesh. Similar to Pulao, it boasts a rustic charm that sets it apart. What makes Tehari even more appealing is its simplicity and ease of preparation as a one-pot dish. Whenever you're in a rush or the mood for some laid-back comfort food, this recipe is the perfect choice for you.
Combining rice with a medley of vegetables like cauliflower, carrots, peas, and potatoes, creates a wholesome and satisfying meal, often served for lunch or dinner. Enjoyed best when served hot, Tehari pairs perfectly with a side of cool curd or tangy pickles for a delightful culinary experience.
5. Nargisi Kofta
Indulge in the allure of another exotic gem from Mughal cuisine, often referred to as Indian scotch eggs. This renowned non-vegetarian delicacy hails from the heart of Uttar Pradesh.
The dish is a delightful blend of Mutton Keema and Eggs, where the egg is carefully enveloped within a flavorful mutton keema paste. Deep-fried to perfection and cooked in a delectable gravy enriched with tomato purée and a selection of dry fruits, this dish truly captures a royal essence.
With its irresistible taste and captivating preparation, it comes as no surprise that this dish gains immense popularity, especially during the festive season of Ramzan.
6. Sheermal
Shreemal, a unique type of Naan or flatbread, holds a special place in the famous Awadhi cuisine. Known for its distinctive taste, it carries a subtle sweetness with a delightful saffron flavour.
This traditional delicacy is deeply rooted in the culinary heritage of Uttar Pradesh. Best enjoyed hot, Shreemal perfectly complements a wide range of vegetarian and non-vegetarian recipes, adding a touch of authenticity and flavour to any meal.
7. Petha
Petha, a Popular sweet dish of Uttar Pradesh, takes the form of delectable cube-shaped treats made with Ash gourd. This famous sweet finds its roots in the regions of Agra and Mathura, adding a touch of sweetness to the culinary heritage of Uttar Pradesh.
The sheer deliciousness of Petha is bound to captivate your taste buds with every bite. These dry sweets have garnered immense popularity not only in the region but throughout the entire country, making them a beloved treat for sweet enthusiasts everywhere.
8. Rasmalai- Famous sweet dish of Uttar Pradesh
Rasmalai, a beloved sweet delicacy, holds a special place in the hearts of sweet lovers across India. No Sweet Shop is ever complete without this delectable treat. Made from Indian cottage cheese or chhena, Rasmalai boasts a soft and fluffy texture that melts in your mouth.
Served with chilled thickened milk, it offers a refreshing and indulgent experience. The final touch of garnishing with dry fruits adds a delightful crunch to this delightfully sweet, best enjoyed when served cold.
9. Khurchan
Khurchan shares some similarities with the classic Rabri, both being delicious sweet dishes made from milk. What sets Khurchan apart is its unique texture, with slightly crisp top layers and a soft bottom layer, offering a delightful contrast of mouthfeel.
This delectable dish is lovingly prepared with a blend of milk, pistachios, almonds, aromatic cardamom, and just the right amount of sugar to create a perfect balance of flavours. Indulging in Khurchan is sure to be a delightful experience for your taste buds.
10. Shahi Tukda- Rotyal food of Uttar Pradesh
Among the plethora of sweets dishes of UP, one stands out as a true favourite – Sahi Tukda. The name itself carries a regal connotation, with "Sahi" meaning royal and "Tukda" translating to piece. This delightful sweet dish lives up to its name with its royal texture and rich flavour.
A Mughlai dessert at its finest, Sahi Tukda is created with a perfect combination of bread, sugar syrup, and Rabri. The final touch of garnishing with an array of dry fruits elevates this dish to sheer culinary excellence, making it truly amazing to savour.
11. Lal Peda
Lal Peda holds a special place among the popular sweet dishes originating from Uttar Pradesh. Renowned for its delectable Pedas, Mathura has perfected the art of making this delightful treat.
Lal Peda is crafted with a blend of cream, rose essence, aromatic cardamom, and a touch of ghee, resulting in a truly mouthwatering creation. This famous food of Uttar Pradesh is among the Most Popular sweet dish of the UP State, It is easily available at every sweet shop, making it a must-try delicacy for anyone with a sweet tooth.
About Uttar Pradesh Food
The culinary landscape of Uttar Pradesh boasts a rich diversity of regional cuisines, and one of the most prominent among them is Awadhi Cuisine. Named after the ancient city of Lucknow, also known as Awadh, this unique culinary tradition beautifully reflects the influence of Mughal cuisine.
The exquisite flavours of Awadhi food, with its delightful kebabs, have earned immense popularity not just within the region but throughout the country.
Read More: Famous Food of Maharashtra
Source
Image Source