In this blog, we'll take you on a culinary journey through 17 famous Food of Maharashtra that is sure to make you drool.
List of Delicious Popular Food of Maharashtra
1. Vada Pav- Famous street food of Maharashtra
Vada pav is a Staple food of Maharashtra, This food is the most popular street food. life of Mumbai is incomplete without Vada pav. People called it an Indian burger.

What is Vada? Vada is a deep-fried Potato patty. Pav is Indian bread. Food is Served with chutneys & deep-fried chillies. Vada is sandwiched between two pieces of bread.
This is an all-day snack. Vada Pav is the life of many daily workers. This food is popular among all classes of people. Vada pav is the signature dish of Mumbai, Maharashtra. This food deserves to be top of the list of Maharashtra's famous food.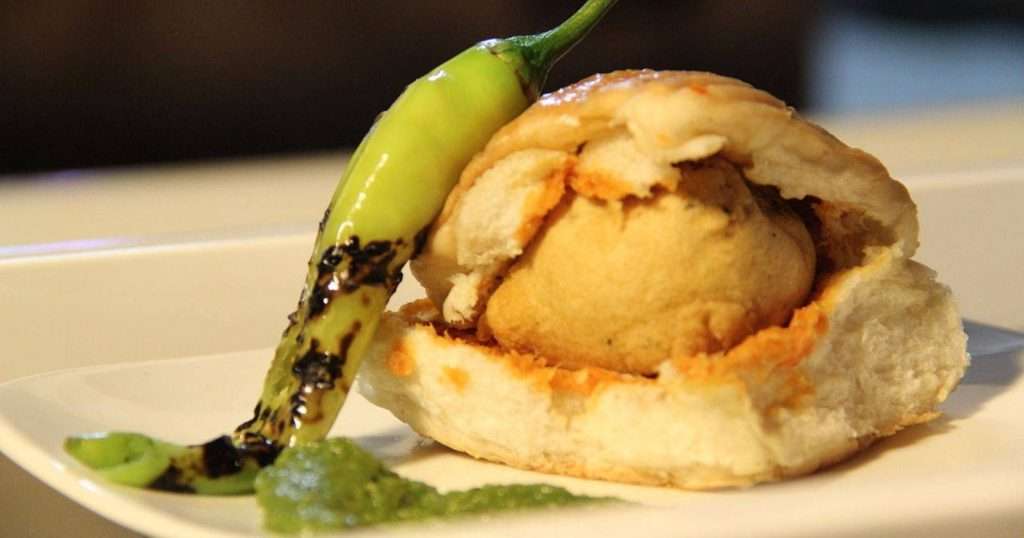 2. Bharli Vangi- Traditional Food of Maharashtra
Bhari Vangi is a stuffed brinjal dish. Baby brinjal is the best option for this dish.
Stuffing of Bharli Vangi is done with a special kind of Spices Mix ( Masala). This Masala is prepared with jaggery, onion, and Goda masala for stuffing.
This Spicy brinjal brings water to your taste buds. Eaten with rice or roti. It is Authentic Maharashtrian food.
3. Sabudana khichdi
Sabudana khichdi is a famous dish in Maharashtra. Especially, during holy fasting (Upwaas). Sabudana is actually tapioca starch. Khichdi means Mixture. This is a popular dish in the entire country.
This Food is popular for breakfast. People love to eat this food as a snack.
4. Rassa- Famous Non Vegetarian food of Maharashtra
It is a Maharashtrian-style Mutton dish with Gravy. Many variations of this dish you can find in other regions of the state as Tamda Rassa, Pandhara Rassa or Varhadi Rassa. This Maharashtrian food originated from Kolhapur. Kolhapur's dishes are popular for their spicy nature. Rassa means juice. Local Prefer to eat This delicious food with hot rice or Roti.
5. Aamras/ Aamrus
Aamras is thick Mango juice. Gujarati Communities like this dish very much. Aamras is a Mango Pulp with a thick texture. Sweet & tasty Aamras Served with rice or Roti.
6. Misal Pav – Maharashtra's famous dish
You can find many dishes with Pav in Maharashtra Cuisine. Misal is a spicy gravy dish.
this food is prepared with Many vegetables. It has a topping of Farsan, lemon, and onion. Misal is Consumed with Pav (A Small Size bread). People Consume it as a Snack. One of the best Traditional food of Maharashtra. Misal Pav is a popular street food in entire Maharashtra.
7. Puran Poli – Maharashtra traditional food
This exotic dish is Popular in south India with various Names. It is a kind of Stuffed Paratha. Stuffing made of Jaggery, Chana dal, and other Spices.
Puran Poli is Popular during festivals for Hindus. We can put it on the list of Healthy Deserts. it is a traditional food of Maharashtra and is Most common among Hindu families.
8. Pav Bhaji – Popular street food of Maharashtra
Pav Bhaji originated in Maharashtra itself. It is an authentic dish of Maharashtra. Pav is a little bread. And bhaji is a spicy mixed vegetable. This dish is popular in India, even in north India too. This heavenly combination gives an amazing taste to your soul. A must-try food from Maharashtra for all spicy food lovers.
9. Modak- Maharashtra's famous dish
Modak is a white colour special-shaped laddu. This laddu is mostly prepared during Ganesh Festival. Rice flour dumpling is filled with special stuffing made from jaggery and coconut, etc. various versions of this sweet dish. Without Modak Ganesha Festival is incomplete.
10. Bombil
Bombil is the famous food of Maharashtra for fish lovers. It is a rare fish found in the coastal region of Mumbai. Bombay duck is another well-known name for this fish. One of the best Coastal Maharashtrian food. Coastal Cuisine is incomplete without a "Bombil dish". It is primarily eaten with rice and lemon juice. The rainy season is the best time to have this dish.
11. Alu Vadi- Popular food of Maharastra
Alu it is not Potatoes. It has no relation to that. Alu is a popular Hindi name for Potato. Here Alu means Arabi or colocasia in the Marathi language. It is a popular snack in Maharashtra and Gujarat. Being a Neighbor of Maharashtra,
you will find many common Popular dishes between both states. This staple food of Maharashtra is Made of Leaves of Alu. It is stuffed with special batter. This Thick Batter is Prepared with Besan, rice flour, tamarind, jaggery, and other Indian spices.
The batter is Spread on Aloo Leaves to make a roll. After that, this roll is cut into equal pieces. These Pieces are steamed and cooked. Remember, colocasia can cause itching in the throat. Similarly, Some people use large spinach leaves instead of Colocasia,
This food is consumed at tea time with green chutney. Alu Vadi's recipe is called "Pathrode".
12. Metkut
Metkut is a traditional food of Maharashtra cuisine. It is mostly consumed when anyone has a health issue. This food is very good for your health. Metkut is a Simple Grounded powder made from Various lentils. Grains and Spices.
They are first roasted and later for grounded on powder. This food is not only easy to cook, but also easy to digest. Metkut is cooked with water, Salt & ghee. Sometimes instead of Water, people use water for cooked rice.
That is full of starch. Which helps sick people to get more energy. This Local food of Maharashtra is easily available in every home. It is an authentic dish of Maharashtra.
13. Sheera -Popular Street food of Maharashtra
Sheera is Suji Halwa. It is the famous Breakfast of Maharashtra. A Delicious combo of Poha & Sheera as breakfast is hugely popular in the State. this food is also eaten as a dessert.
It is made with semolina, sugar or honey, ghee, coconut, and milk also. This Sweet dish is garnished with dry fruits like raisins and cashews etc. In south India, Rava Kesari or Kesari bath is a Similar Variation.
Besides that, it is distributed in the temple. It is a very famous dish in Maharashtra. Which you find mostly in yellow colour. Sheera has many variations. You can find it with ingredients like walnut, Pineapple, Jackfruit, mango, etc.
14. Usal
Usal is a Sprout moong dal curry. This Curry food is Spicy as well as a Healthy dish. Usal is a Popular breakfast in Maharashtra. Usal Pav (Bread) is a famous street dish in the state.
Vada Pav, Usal Pav, and Misal pav are popular dishes in Maharashtra among tourists. Usal is a Unique dish from Maharashtra food.
It is prepared with Special Gada Masala which is very common in Marathi kitchens. Gada Masala brings a more authentic Marathi flavour to the dish. Moong dal is cooked with homemade Masala paste and Goda masala.
This food is a popular breakfast eaten with Pav or Evening Snack. Usal is also consumed with rice or roti as a meal.
15. Komdi Vade- Staple food of Maharastra
Komdai Vade is a Popular vegetarian dish in the Konkan area of Maharashtra. Vade is a fluffy dumpling Made with Rice flour and Urad dal (Black Gram).
This food is very common during festivals like Gatari, Gauri Ovase And Dev Diwali. It is a staple food of Maharashtra, Malwan Region.
Locals love to eat with malvan chicken curry dish. Rice flour and urad dal are made with turmeric and other spices. Vegetarians eat this food with aloo sabzi or chole. Non-Vegetarians are delighted with Chicken dishes.
17. Sol Kadhi
This famous food of Maharastra is a popular drink in the Konkan region. Sol Kadhi is a body cooler as well as good for digestion. This refreshing drink is made with kokum fruit. Kokum is a plant is found in the Kokan region of Maharashtra and Goa.
Kokum curry is made of Coconut milk. Coconut Milk is mixed with other herbs like Coriander, chilli, garlic, etc. You can find it easily in any restaurant in Maharashtra and Goa. And it is an essential recipe for Maharashtrian and Goan thali.
Bombay duck is one of Maharashtra's cuisines. It is a distinct and Popular fish dish. Savji food is popular for its Hot & Spicy flavour.
Maharashtra is one of the biggest states in the Country. It includes many regional cuisines. Special Food from Nagpur, Pune, Mumbai & Kolhapur. Maharashtrian Special Spices and Many More. Coastal cuisine means the food habits of the Konkan region. Konkan is a stretch of land by the west coast of India from Mumbai to Goa. Seafood is a popular food in this belt.
Plain areas of Maharashtra are Vidharbha, Khandesh, and Marathwada. The cuisine of this area defers from Konkan Cuisine. Varadi & Saviji is a Popular Cuisine in this Area. Chicken and Mutton are famous in this Region. Its spicy taste has made Savji Cuisine famous. Savji Chicken and Savji Pohe are some of the popular dishes.
FAQ about Maharashtra Food
1. What is the Main food of Maharashtra?
The main food of Maharashtra includes dishes made of fish, mutton, chicken, rice, jawar, lentils, Wheat, etc. Coastal cuisines are the Konkan area Cuisine that includes mostly seafood items & fish.

While plain area cuisines are Vidharbha, Khandesh, and Marathwada. Maharashtrian foods, especially from Kolhapur & Nagpur, are very special. Nagpur is famous for its Savji dishes.

The famous food of Maharashtra is Vada Pav, Pav bhaji, Usal Pav, Misal Pav, Puran Poli, Bharli Vangi, Sabudana khichdi, Rassa, Aamras/ Aamrus, Modak, Bombil, Alu Vadi, Metkut, Sheera, Usal, Komdi Vade, Sol Kadhi.
2. What are the Popular snacks of Maharashtra?
Popular snacks of Maharashtra are Misal Pav, Usal Pav, Pav Bhaji, Poha & Sheera.
3. What is Marathi Cuisine?
The cuisine of Maharashtra is popular as Marathi Cuisine. Marathi Cuisine is famous for its Spicy Dishes.
4. What is the Famous street food of Maharashtra?
Popular street food of Maharashtra is Vada pav, Misal Pav, Pav Bhaji, Sandwich, Usal Pav, Sav Ji Pohe, Poha-Sheera, Upma Sheera, etc.
Feature Image: Source
Reference :