Famous food of Andhra Pradesh includes dishes made of rice, vegetables, cereals, fish, and meat. Andhra Food is famous for its spicy and tangy flavour. Rice is the staple food of Andhra Pradesh.
Andhra Pradesh food has a rich cultural heritage. There are many varieties and diversity in their dishes. Being a City of Nawabs, the Influence of Royal cuisine can be easily seen in Andhra Pradesh Cuisine.
Andhra Pradesh has a Coastal area too, and locals of this part State love to eat Seafood. Rice and fish are famous in this area. Rayalaseema Cuisine includes many delectable sweet dishes like Pala Kava, Rava Laddu, Borugu Undalu, and other vegetarian dishes.
Read More: Famous food of Rajasthan
What is the name of the famous food of Andhra Pradesh?
Here is the list of 16 Famous Andhra Pradesh food.
01. Pesarattu
The" Pesarattu" is Green Dosa. Generally, this dish is eat-in breakfast or as a light food. This traditional food of Andhra Pradesh is prepared with Moong dal. Served with coconut chutney or chili tomato chutney.
Easily available at every restaurant in Andhra Pradesh. The green colour of this dosa makes it unique.
02. Pulihora -famous food of Andhra Pradesh
Pulihora is actually Tamarind Rice. It is also called "Chitrannam". It is a rice recipe in Andhra style. This Traditional dish is a tangy & sour taste. Rice is cooked with tamarind and other spices.
03. Dondakaya Fry
Donadakaya or Ivy Gourd also known as Kundru, Tondli in another part of India. This is a fried delicacy from Andhra Pradesh. Pieces of Ivy gourd are stir-fried with a coating of spices. This mouth-watering crispy dish is served with Roti or hot rice.
04. Punugulu
Pungulu quite famous food in Andhra Pradesh. It is Snacks from Andhra Cuisine, The dish is prepared with Idli or Dosa batter with Rava. This deep-fried, brown color, lip-smacking dish serve with Tea. This will delight your taste buds. Andhra's traditional food list can't be complete with Punugulu Recipe.
05. Gutti Vankaya Koora
The famous traditional food of Andhra Pradesh. For all vegetarians, this is a must-try dish from the State. This dish is based on brinjal. Tender eggplants are stuffed and prepared with fresh herbs. This is a thick gravy dish tangy in flavour and served with rice or Roti. One of the most popular dishes in Andhra Pradesh.
06. Bobbatlu
The most popular Sweet dish is during Hindu festivals. Indian Flatbreads stuffed with Chana dal combined with lentils, jaggery, etc. this divine time this dish will be given a divine taste.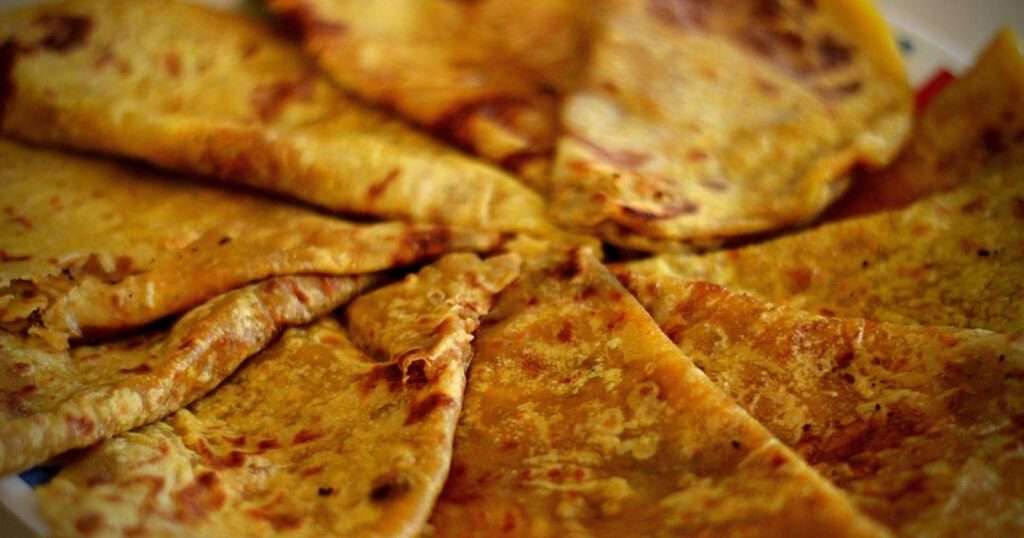 07. Uppindi
Another Popular dish for Breakfast. It is similar to Upma. This food is prepared with rice Rava and Moong dal. Easy & fast to cook. Peanuts & Other spices are used to enhance the flavour.
08. Panasa Puttu Koora -Andhra Jack fruit Curry
This dish is made of jackfruit. Raw jack fruit is shredded & marinated with Mustard, coconut & Other spices. It is the traditional food of Andhra. Panansa Puttu means shredded Jack fruit.
A unique & distinct dish for all Jack fruit Lovers.
09. Ulava Charu
Ulava Charu is lentil soup from Andhra Cuisine. Horse Gram is used for this South Indian Soup. This South Indian Rasam or Charu is extremely healthy and easy to cook. You will find many variations in this soup.
This is Sour and salty soup is very common in every household. South India. It is Popularly known for its Rasam dishes in the Rest of India.
This south Indian rasam is made with black gram, Coconut, tamarind water, pepper, tomatoes, coriander, garlic, and other Indian spices. That makes this soup more aromatic & tempting.
It is a very common meal in Andhra food. Black gram is a good source of protein that makes this dish not only delicious but nutritious too.
10. Gongura Pachadi-famous food of Andhra Pradesh
It is chutney from the Cuisine of Andhra Pradesh. Gongura Pachadi is a Gongura Chutney. Gongura is the Telugu name for Red sorreal leaves. It is also known as Ambaadi, Punde Pale, Pulicha Keerai in other parts of India. Red sorrel is tasted sour and tangy.
It is the popular side dish of Andhra. Good source of vitamin C. Gongura Pachadi is cooked with Gongura, red chilies, and other spices. Tempering is done with mustard seed, cumin seed, red chilies, and curry leaves.
It is very simple and easy to cook the dish.'Eaten with Rice dish. Very popular in the Guntur region.
11. Chepala Pulusu
If you are a fish lover and looking for a fish-based dish from Andhra Cuisine. Then this Traditional dish is for you. Chepala Pulusu is Andhra's famous fish curry food.
Authentic, Exotic & unique in taste. This is a Tangy & spicy fish curry dish. Prepared with Poppy Seed & Other Indian spices. And served with hot rice. Available in all Restaurants.
12. Kodi Pulao ( Chicken Pulao)
Kodi means Chicken in Telugu. It's a chicken Pulao dish. This dish is made of Rice, Chicken & Coconut Milk. This Spicy & Delectable dish takes you to a different world of taste.
13. Andhra Pradesh Chicken Biryani
This Traditional food of Andhra Pradesh, is another popular & delicious dish of India. In the category of Biryani, "Hyderabadi Biryani" is a famous name. This is the Authentic Andhra style of Biryani. Every biryani lover always wants to taste this Andhra delicacy.
14. Pulasa Pulusu
Special dish for Fish lovers from Andhra Cuisine. This delicious dish is Prepared with One of the costliest & tasty fish in the area. Pulasa is a very popular fish, it is also known in other parts of the country as Elisa, hilsa, hilsa shad.
There is a saying in Andhra it is worth selling manga sutra for Pulasa. This famous Spicy and Tangy dish is made with okra, tamarind, and other Indian spices. It is seasonal food.
This Curry dish is served with hot rice and Salad. In Andhra Pradesh, this fish is found in the Godavari River. Rich Gravy dish is Mostly eaten in the coastal area.
15. Boorellu
If you are waiting for the dessert from the Andhra Pradesh food list. Your curiosity ends here. Made with Coconut milk & Chana dal. This deep-fried sweet dumpling is very much Popular during the Makar Sakranti in Andhra.
16. Pootharekulu
Pootharekulu is a Popular dessert. This dessert is made with rice. "Pootha" meaning in Telugu is coating and "Rekulu" defines the thin layer. It is popularly known as a "Paper Sweet "dish by locals. This delicious sweet is made with rice, sugar powder, cardamom powder, Cashew, Jaggery, and Ghee.
Rice paper is filled with a mix of Ingredients and gets folded multiple times. It is a very famous dish in the East Godavari district of Andhra Pradesh. Amazing & delicious food is much popular among locals. Loved by all age groups.
It is also spelled as Pootharekulu, Putharekulu, or Putarekulu. It is believed that it is created by Brahmin groups in the 16th century Ad in North Godavari Area, Andhra Pradesh.
FAQ- Andhra Food
1. What is the Traditional food of Andhra Pradesh?
List of traditional food of Andhra Pradesh includes Biryani,Pesarattu, Pulihora, Dondakaya Fry, Punugulu ,Gutti Vankaya Koora, Bobbatlu ,Uppindi ,Panasa Puttu Koora ,Ulava Charu ,Gongura Pachadi ,Chepala Pulusu, Kodi Pulao, Pulasa Pulusu ,Boorel ,Pootha Rekulu
2. What is the cuisine of Andhra Pradesh?
Andhra Pradesh Cuisine could be divided into three types, Telangana Cuisine, Rayalaseema Cuisine, and Coastal Andhra Cuisine.
3. What is Andhra special sweet?
Poothareku is a Popular sweet of Andhara Cuisine
Cover Image Credit: Wiki Commons